Bags laden with Christmas gifts, we arrived in the UK for a traditional Christmas visit. The first tradition we kept up was finding ourselves homeless for our visit. So, we psyched ourselves up for living seven up in son Nathan's front room, his house in the throws of major alterations. This quickly grew old for everybody and we were delighted when friend Jeff kindly allowed us use of his holiday cottage, provided no paying guests turned up. Needless to say we were happily settled in, when somebody thoughtlessly offered him money for use of the premises, so we were back on the floor in the front room again! However, the cottage was wonderful when available and we certainly enjoyed having the use of a place of our own. Newport friends Dave and Silke also generously gave us a key to their home and offered use of their place too. Aren't friends wonderful!
Our first priority in the UK was renewal of our passports and a visit to the US embassy for new US visas. Three days into our time in the UK, following a battle between Phil and a passport photo machine, then a serious dent in our bank account, we had our new passports in hand.
Next came the tricky part, completion of the US visa application forms online, involving a further major funds depletion and a two pounds per minute telephone call to the appointments department. Unfortunately the only available appointments were at 9.30 am in London, so armed with a hefty file of supporting documents for our application and a little trepidation resulting from the scary application instructions, we planned our trip to the capital. The tricky part was arriving in London by 09.30 am when no electrical devices, even electronic car keys, were allowed inside the Embassy. What were we supposed to do with the electronic key to our hire car, if we drove.
Finally we devised a solution involving moving in with Dave and Silke overnight, their place being a ten minute walk from the train station and an early start to catch the 5.30 am train to the big city (needless to say, another serious cash drain although at a more civilised, slightly later rush hour time we would have been paying over £300 for our two hour train trip!). Arriving in London at 7.30 am, when almost everything was still closed was surreal but we managed to pass the time and fortify ourselves with a remarkably great value full English breakfast, just off Oxford Street. Now we were in fine shape for the anticipated two to three hour visit to the Embassy. As instructed, we arrived no more than fifteen minutes prior to our assigned time and around half an hour later were on our way back to Wales, visa applications approved.
Now we could relax and enjoy the other British Christmas traditions. First came the coughs and colds kindly passed on by the grandchildren. Still we got our own back by taking embarrassing pictures at their Christmas nativity plays, ammunition to bring out at a later date! After all, what is Christmas without somebody dressed as a shepherd with a tea towel on his head and a front tooth missing!
Often depicted on festive greetings but much less traditional for Christmas was the bitter cold weather and snowfall. However, this was much more pleasant than the normal cold rain. The first snowfall brought a flurry of excitement amongst the grandchildren. First the somewhat puny snowman had to be built (well there wasn't a lot of snow). Gareth quickly learned to make and accurately aim snowballs at his playmate. There were snow angels to be created, it was non-stop.
Soon Christmas Day was upon us and found us in Cheshire, preparing dinner for Christine's Dad, Joe. One condition was issued, dinner had to be over in time for the Dr. Who Christmas special at 6 pm. By the appointed time we were all stuffed, sleepy and positioned in front of the TV. Next came a stream of welcome if perhaps badly timed festive phone calls from friends and family. Thanks to BBC's online I-Player, we did finally manage to download and catch the show at a more convenient time.
Boxing Day had us on the road back to Wales for a Boxing Day lunch at Nathan's, as if any of us needed anything else to eat. All the family were together, it was wonderful.
Jo-Ann, Daf and Iwan up from Swansea managed to get back into festive spirit, despite their run-in with a grumpy neighbour of Nathan's over where they had chosen to park. Daf was kept busy constructing James' new Lego sets brought by Santa and when they left Christine bravely deputised.
When the weather finally allowed, there was plenty to keep us busy. Gareth had to learn to ride his new bike. James hiked with his Dodo and Christine up the slopes of Table Mountain and there were lots of trips to the playground to keep small people out of parents' hair!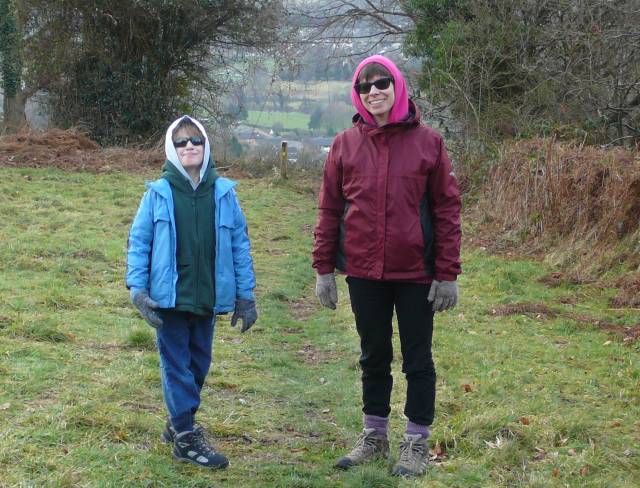 After the New Year's Eve tradition of a drunken catching- up with Christine's former boss during the firework display at the Bear Hotel, we were off to Swansea for another visit to Jo-Ann and Daf's new home. It was great to be able to spend a little more time with them this visit, if still not enough.
We drove on with our hangovers to Trish and Margaret's new Mumbles home. There we spent a couple of wonderful relaxing days. We hiked the coastal path, ate delicious local fish and chips and a enjoyed a whole day's Dr. Who retrospective on TV.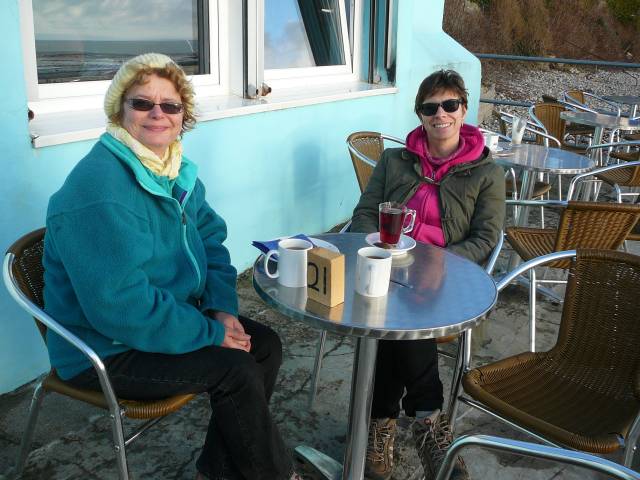 If the tea doesn't fix the hangovers, sitting outside this cafe in the freezing cold just might - are we crazy?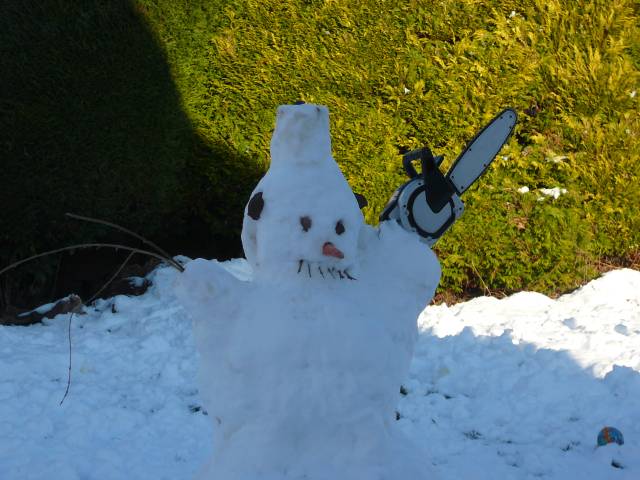 Scary Snowman
Just in time for us to start worrying about the drive to the airport and our flight, a more serious snowfall came along. This time the grandparents were despatched into the garden to build a proper snowman. On completion we weren't sure if our effort met with parental approval! A sledge was bought and was immediately deployed and enjoyed by all.
All too soon came the dreaded goodbyes. Gareth promised to keep Christine's fireman hat safe for her next visit in June (oh whoopee!). Fortunately we timed our departure to escape the great chickenpox epidemic later in the month!