Amazingly enough, the trains from Abergavenny to Manchester Airport ran on time and we made it for our flight with plenty of time to spare. The trickiest part of getting on the plane was our discussion with airline security about why we didn't have a return ticket. We patiently explained that, as we originally sailed to the USA and fly home from there regularly, our tickets, of course, originate there, with the return part being the trip back out to the USA. Seemed straightforward to us. His next questions was "So, why don't you have a return ticket?", perhaps our explanation was inadequate after all. The third time he asked the same question, we replied that we'd be sailing back on our boat. Finally we seemed to make contact with some grey cells and were allowed to board the plane.

After our hour long wait at the other end to clear immigration, our bags were selected for extra customs scrutiny, another first for us. After passing the bags through the X-ray machine again, the friendly Customs lady asked if we had any foodstuffs with us. "Well, we do have about 500 tea bags and a Christmas Pudding", we replied, after all we are British! We were asked for clarification, what exact ingredients made up a Christmas Pudding. We were somewhat stumped, as they usually arrive at our home in a microwaveable box from Tesco's supermarket. Anyway after our rambling explanation and best guesses about the ingredients and how it is prepared, we and the pudding were admitted into the States!

By the time we arrived back in Greensboro, North Carolina (having flown over it about four hours earlier on our way to Atlanta!), it was late evening and we were relieved to pick up our rental vehicle and head to our friendly motel for the night. As on previous visits, we failed to spot the "Gentleman's Club" reported on a review website to be located in the motel's parking lot, maybe we were just too jet-lagged to care.

In anticipation of February weather in the mountains of North Carolina and the fact that we had to collect our bikes from our friends house, high up there, we'd rented a Jeep. Our plan was to drive to Spruce Pine, check on Harvey-the-RV. If all was well, we'd scoot up the mountain in the Jeep, collect the not insubstantial amount of our stuff we'd left in Chris and Vivian's house, drive it all back down the mountain and load up Harvey. As it turned out, the weather was gorgeous, we'd never seen such clear views of the area, all-wheel drive was unnecessary. When we started to move our bikes from our friends cellar, we took at look at the condition they were in. They have had a long and tough life, including a deck-side ocean crossing and it seemed that finally most mechanical parts were seized. We decided it was time to retire them and leave them to enjoy their retirement in Chris and Vivian's basement for the time being (sorry guys!). We'd been debating replacements for a couple of years anyway. So it turned out that the large, four-wheel drive vehicle was totally unnecessary but it was fun to drive!

With Harvey loaded up, we returned in convoy to Greensboro. Next morning the rental car was returned and we headed south quickly. We planned to camp the night in Harvey in a South Carolina State Park, darkness was falling as we made our approach, only to find the road to the park closed for road works. Plan B came into action and we headed for a different park, finding ourselves in areas of South Carolina's back roads as yet unknown to GPS technology.

After a chilly night we were back on the road to Florida. Stop one in Florida was at Jacksonville Customs to deposit our boat papers, as Anju's cruising permit would be expiring shortly. Stop two at the Green Cove Springs DMV to renew our Florida Driver's licenses. An hour later and $130 poorer we were finally reunited with Anju at the marina.
Two days in Green Cove Springs spent moving stuff between Harvey and Anju, checking all was well aboard Anju, bailing out the bath tub that used to be our dinghy and shopping for new bikes and we were on the road westwards out of town.

There was little evidence that we were in the 'Sunshine State'. We'd crossed the state line in fog, had to wash the grime off Harvey in drizzle and now found ourselves heading towards Florida's panhandle in driving rain. After a couple of hours in these horrible driving conditions, we gave up and pulled into a commercial campground in Perry, where we amused ourselves for the rest of the day with cable TV and internet. On check-in, we'd read the warning signs about the odour emanating 'occasionally' from the town's paper plant, something between boiling cabbage and bad eggs. Sure enough we spent the rest of the day enjoying this delightful phenomenon.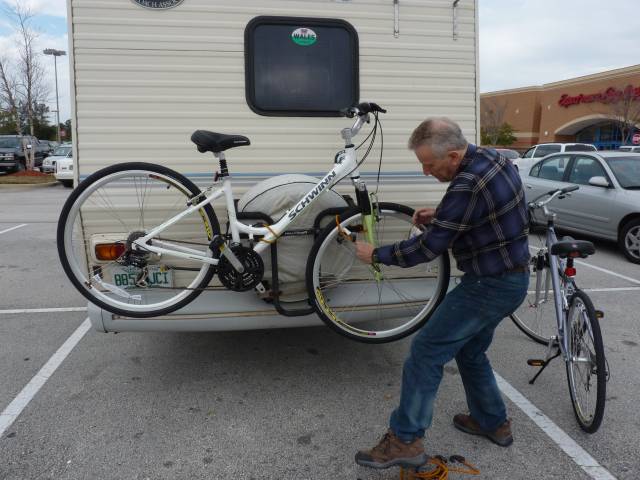 Persuading the new bikes to fit our bike rack in the parking lot at Target!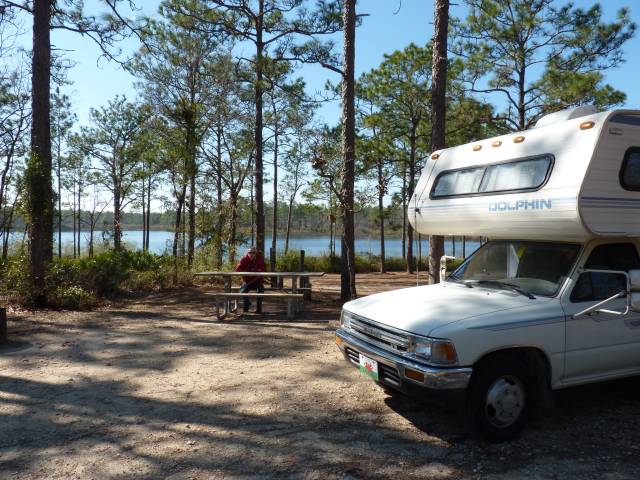 Harvey and driver relaxing at Camel Lake!
Next day the sun finally came out and we set off in search of adventure. We'd selected Camel Lake campground in the Apalachicola National Forest as our destination, largely due to a desire for wilderness, but wilderness with electricity to run our heater! The directions in our guide were comprehensive, we just had to take Forest road 105 for a couple of miles from the country road we were driving on. Easy, unless your dyslexic navigator sends Harvey off bumping along forest road 150 instead. Several miles down the mud road, deep in the forest, we decided we'd gone wrong, yet had to continue until we found a spot in we could turn around. Finally we found the right road, (which was actually in worse condition than the wrong one) and arrived at the blissfully peaceful campground. By the time we moved on next morning the forestry workers had resurfaced the road for us! No complaints about the service there!
We took lunch at a grill on the waterfront in downtown Pensacola. Much of the waterfront area's buildings had been destroyed by Hurricane Ivan. Lunch was followed by Happy Hour, Dinner, Breakfast..... At this point the girls decided they'd better get some exercise and took a five mile walk on the beach. Cleaning teams were still at work, checking for oil from the Gulf oil spill but the beaches were pristine.

Meanwhile the boys were busy adding a layer of insulation to the bed compartment above the cab on Harvey, to eliminate the condensation which had been a problem due to the cold weather. All this effort was rewarded with lunch, happy hour, dinner and a movie. It was great fun.