After the relative peace of New Zealand, Hong Kong came as a shock to the system. In our addled, jet-lagged state, we ooh'ed and aah'ed at the almost other-worldly vistas surrounding us on our transfer to the hotel. We'd never seen so many high-rise buildings packed so closely together and seeming to reach right to the sky.
By the next morning we were in a better state to familiarise ourselves with the city and began with a pre-arranged tour.
From our hotel in Kowloon, we were taken to Hong Kong Island to ride the Peak Tram up to the heights of Victoria Peak. From this spot the views of the area were impressive and the tramway itself, ascending at 27 degrees to the summit was amazing.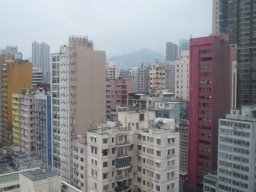 View from our hotel window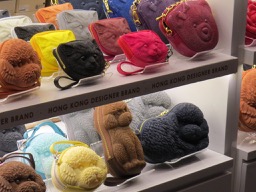 Tasteful fashion accessories at the Mall
Our tour allowed a superfluous amount of time to explore the shopping mall at the peak before the trip back down. Some of the tasteful styles available made us wonder.
Next we were taken on a boat ride among the moored boats and restaurants in the harbour. We marvelled at the fast food delivery boat which catered to the hungry boat workers.
We spent the afternoon exploring by ourselves before our evening boat cruise around the harbour to see the impressive sunset and watch the city become a sea of lights and fireworks.
All that remained was to find a place to try out our chopsticks skills over dinner, which we enjoyed surrounded by bustling market street-life.
Our hotel had a great position near the central Nathan Road, allowing easy access to the excellent bus service. We spent our second day exploring by ourselves. First we sought out the fish market. Not your conventional fish market, this one sold pet and ornamental fish which would definitely be the best type of pet for the crowded city.
The nearby bird market seemed to be the domain of older men who would take their caged pet birds out to the park to socialise. Another part of town was dedicated entirely to a market for flowers and plants.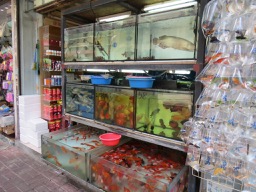 One of many shops at the Fish market
We spent the afternoon riding the Star Ferry across to the island where we visited the Edward Youde Aviary in Hong Kong Park. This was an oasis of peace in the bustling city.
We just had time to grab some dinner before it was time to be picked up for our flight home.
Hong Kong was definitely worthy of a lengthier visit at a later date.