We took an early flight to Ho Chi Minh City before travelling on by bus to the Mekong Delta, where we would be enjoying a 'homestay' in traditional Vietnamese style.
With some trepidation, after climbing off the bus, we carried our overnight bags through lush, swamp-surrounded forest, following little more than mud tracks which zig-zagged between the undergrowth, to reach our temporary home at the village of Ben Tre.

Gluten free breakfast box from the hotel: One hard boiled egg - bring your own bread.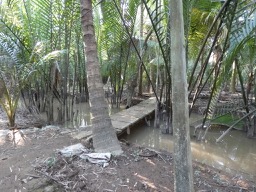 Somewhere around here is our accommodation.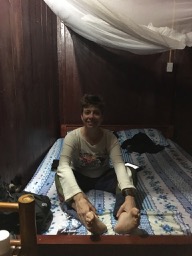 Home Sweet Home
On arrival we were greeted like family, shown to our dorm accommodation and served a multi-course, seafood based lunch.
An adventure by canoe through the weaving waterways of the delta followed. We rounded the day off with a bike ride around the villages which went really well until the return section along the slalom of paths surrounded by water back to our home. One ninety degree bend ended with Christine's foot submerged in the swamp and a very wet shoe!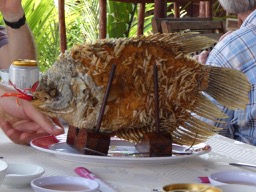 Lunch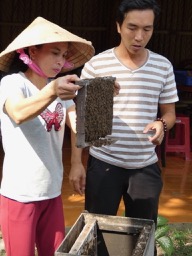 Honey production
We took to the waters of the Mekong again the next morning, this time under power, to tour some of the local income sources of the area. The delta is known for coconut growing and processing. Opening the coconuts was definitely a job in need of danger money as they were thrust, by hand, onto a seriously sharp metal spike to break open the husk. Not a job to misjudge. We visited local honey producers and a remarkably aesthetically pleasing brick factory.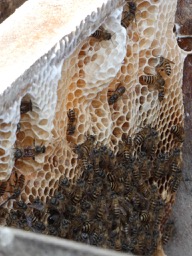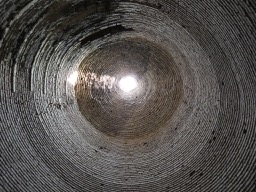 Brick kiln made without mortar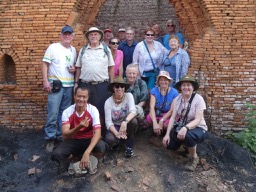 Group photo at the brick factory
The trip through the countryside to rejoin our bus was made by Tuck-tuck, before we made the journey back to Ho Chi Minh City.