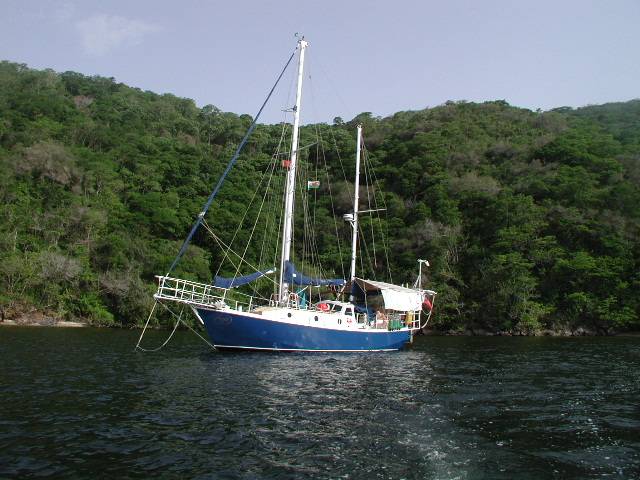 Anju at anchor in Trinidad, West Indies and under sail off Cat Island, Bahamas
Anju is a 13m steel ketch (two-masted sailing yacht), designed by Colin Cowan from New Zealand and built in Fremantle, Australia in 1984 by David Jackson Steel Yachts. When we purchased her in 1997, she had already completed a half circumnavigation, from Australia to Britain.
She is a heavy displacement, long-keeled boat with deep centre cockpit. The interior has a three cabin layout, with a good-sized after owner's cabin. Tankage aboard ensures a good range, with around 500 litre capacity for both diesel and water. Anju was upgraded before we left Wales with state-of-the-art electronic navigational instruments and radar, a Robertson hydraulic autopilot and the addition of a stern platform to provide additional deck space. We also fitted her out with a new set of heavy-duty cruising sails. A few luxuries were also added, including a pressurised hot water system.
During our travels, further improvements have been made. We have added a steel arch and dinghy davits, a refrigerator, a wind generator and full sized sun-awning (also used for water collection).
The original name of the vessel when launched in Australia was Ann Judith, which was later shortened to Anju. We have been told that this is a Hindu girls name, meaning "one who lives through the heart".
The Crew:
After living aboard for three years in Penarth, South Wales, we, Phil and Christine Rees, set sail in July 2001, planning to spend several years cruising around different countries of the world and experiencing their cultures.
In 2001 we travelled from Wales to Ireland, Spain and Portugal, Porto Santo (Madeira) and Tenerife (Canary Islands).
We made a 25 day Atlantic crossing from Tenerife to Antigua in January and February 2002 and then visited the Leeward and Windward Islands and Venezuela.
In 2003 we spent time in Martinique, Trinidad and Tobago and also to revisited the Grenadines and Grenada.
In 2004 we went to Venezuela for a couple of months before heading north-west via Bonaire and Haiti to Cuba in April. We spent the rest of the year cruising the East Coast of the United States of America.
2005 and 2006 were spent cruising the US East Coast and Bahamas.
2007 was mostly spent in the yard, working on a major re-fit before setting sail again for the Bahamas in 2008.