We left the shelter of the river just before dark and found the proliferation of fishing buoys quite a hazard in the dark, so headed away from shore to deeper water as quickly as possible. Our first night at sea was spent under motor as there was very little wind until around nine o'clock the following morning, when we managed to sail for a period of an hour or so, until the wind died again.
We continued through the Celtic Sea under engine until around 5 pm, when we began to smell something electrical overheating. Suspecting the batteries were overheating due to over-charging during motoring as a result of a potential problem with our new battery regulating system, we switched off the engine and sailed, finding just about enough wind to keep making headway. In order to sail, however, we needed to make an adjustment to the roller reefing, which we found to have been incorrectly assembled after the masts were put back up. As a result of this, the roller for the reefing line had become very stiff and it was difficult to pull the sail out and roll it away. Phil managed to correct this problem just in time to reef the sail when the wind picked up to force five from the north west, making the sea state become uncomfortable. Dinner was abandoned in favour of ham sandwiches.
Around nine thirty pm, we attempted to restart the engine, to check out the battery problem and found that all the alarm indicator lights came on making the cockpit look like Blackpool Illuminations in October, so we hurriedly switched it off again. Fortunately there was still enough wind to keep sailing through the night before we would investigate the problem the next day.
At three am next morning we encountered a strange combination of lights, several very bright and one yellow flashing light which seemed to keep moving back and forth around the stationary brighter lights. It was very confusing to tired watch keepers, each time we changed course to avoid the outer yellow flashing light, it seemed to move right into our path again. Finally after gybing to change course numerous times we finally managed to pass the obstruction at around five am. With hindsight and experience, we realise that we should just have called the vessels up on the VHF radio to find out which way to pass them but at the time it was quite stressful as there were several other large vessels around at the same time. We can only assume that some kind of underwater works, such as cable laying, was taking place.
After our sleepless night we were both exhausted, to the extent that while Phil was resting, leaving Christine on watch, she was experiencing hallucinations, seeing objects such as pylons and bridges at sea which obviously weren't really there. It was quite a frightening experience but after a nap of around three hours, she finally regained her sanity.
We entered French waters in the evening of our second day and although we had concerns about the engine problem, which we had not yet managed to investigate, at least the sun was shining.
As we passed parallel to but out of sight of the French coast the next day, seeing no other vessels after passing Brest, the sea remained uncomfortable. We were becoming more and more concerned about Sophie, our cat, who had neither moved from her basket at all for the three days nor eaten or drunk anything. We tried to tempt her with water and tuna, one of her favourites and although she did eat a little, it didn't stay down long. It was her longest passage at sea yet and it seemed she wasn't coping too well.
Phil was finally able to investigate the engine problem and despite changing the water impeller and checking out everything he could think of, he couldn't find anything wrong. The engine started and ran fine, we could only think that the water intake may have become temporarily blocked, causing overheating and decided only to use it for emergencies and for arrival at La Coruņa, as the electrical problem was still unresolved.
During the night the wind picked up again and came around to the south west, forcing us to beat to windward and we battled along under double reefed main and only a little genoa. Waves were breaking in the darkness over the cockpit and we were glad of our protective cockpit cover, which meant that although we got damp, we didn't get really wet. Again with hindsight, due to our lack of experience and over-caution, we were probably making our lives more uncomfortable than necessary by not carrying enough sail to allow Anju the power to push through the waves better but as is often said, there is only one way to learn.
Sophie decided to emerge from her bed at around four am on Christine's watch and whilst attempting to retrieve her from her wobbly stroll around the cockpit, Christine slipped on the wet cockpit boards, crashing to the floor directly on the base of her spine. As she was severely winded and shaken up, she woke Phil who sent her to bed. Not for long, however, soon everyone was up again for the rest of the night, as we were bashed by the waves and the spray and rain hammered on the deck, reducing visibility.
Next morning we found ourselves on a head-to-head collision course with a freighter. We were unable to turn any more to starboard to pass him port-to-port without tacking, as this would put our bow directly into the wind and stop our progress. When we called him up to explain our predicament, he kindly agreed to pass us starboard-to-starboard, allowing us to avoid having to tack to pass him. We happily smiled and waved as he went by and we continued to eat our Sunday lunch of honey on toast.
Despite the BBC shipping forecast promising that the wind would turn back to the north west, we continued beating against the south-westerlies for several hours more, until finally at around three pm, the promised winds arrived, allowing us to make a better course for Northern Spain and slightly more comfort.
To add to our fun, our brand new Simrad chart plotter suddenly went off and although it did come back on again, we decided to set up our old back up GPS again, in case of any further glitches.
Dinner was a glamorous affair, corned beef and baked beans, beautifully presented in a large mixing bowl with a handle. We'd now decided due to all the problems we'd experienced, our fatigue and Sophie's frailness, to head for La Coruņa instead of heading further on past Cape Finisterre, which was our original plan. If all went well, we should arrive the next evening.
During our last night at sea, Phil finally got four hours of sleep, the longest of the whole trip. Sleep wasn't helped by the noises from our autopilot pump, which transmitted themselves along the copper hydraulic pipes directly above the bed in the aft cabin. During periods of off-watch rest, the noises would creep into your subconscious, sounding like voices having intense conversations and leading to some very surreal dreams!
Next morning dawned sunny and bright and the wind began to die off and we had to try the motor again in order to reach La Coruņa that day. Fortunately it held up without problems and as we approached the entrance to the harbour at La Coruņa, we were so relieved that we burst into tears. We'd been extremely anxious about crossing the Bay of Biscay, with its fearsome reputation and despite all the problems we'd experienced on the way, we had made it and learned a lot on the way.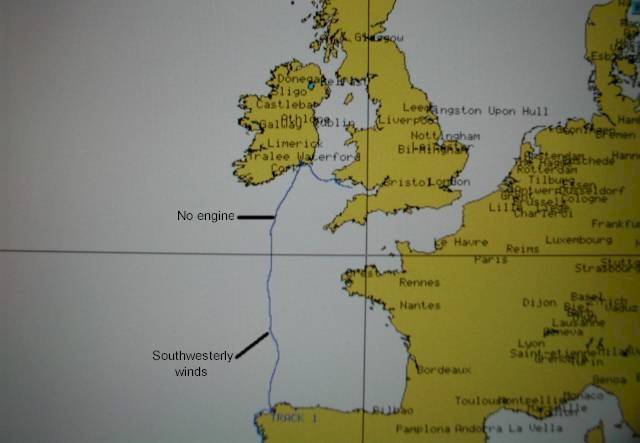 Track across the Bay of Biscay