We left Antigua on 28th February to head to St. Barts. The Passage to St. Barts was tiring. We were beating into the wind all the way, which is almost unheard of. Naturally another case of exceptional weather for the time of year! Anju performed much better than expected and we spent much of the night trying to slow her down, in order not to arrive in St. Barts before daybreak. We were in the company of numerous cruise ships, traveling in circles for the very same reason.

On arrival, after hearing the forecast for big winds and swell during the next few days, we decided to attempt to pick up mooring buoys, one at the bow, one at the stern, inside the harbour of Gustavia, in company with all the superyachts. This turned out to be trickier than expected, particularly after a total lack of sleep the night before and in a strong wind. Eventually, with the assistance of a neighbour, John, we were safely attached and found ourselves right in the centre of the bustling town, which apparently is very popular with the glitterati, royalty, movie stars and in fact turned out to be quite popular with us too! It was such a luxury after Antigua to find a supermarket with a wide range and quantity of products on the shelves, including reasonably priced French wines and cheeses.

We met some lovely locals, a casualty doctor and a dentist when Christine's face began to resemble that of a hamster due to an (it has to be said extremely painful) abcess on a partially erupted wisdom tooth. Naturally this was not too stylish in the glitterati circles, not this year's style! (There is a photograph but it's just too frightening!) The dentist's advice was that the lower wisdom teeth should be removed but that the operation "should not be carried out on a small island...".

They say that every cloud has a silver lining and the good side to all of this was that Phil was chatting to a very hospitable French couple, Georges and Josiane, whilst Christine was in the dentist's chair and they offered to take us for an island tour in their car.......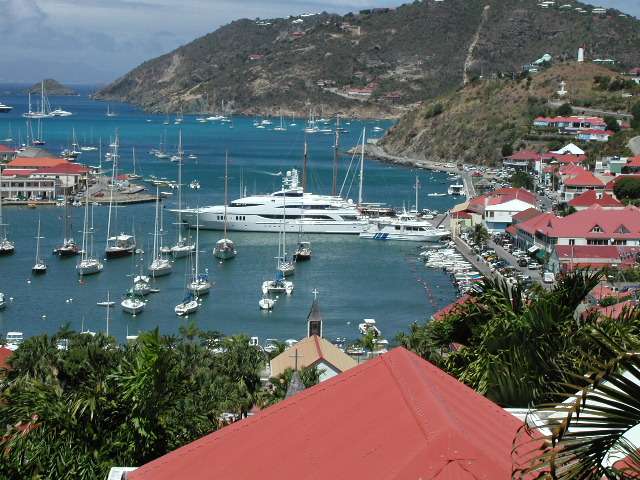 Anju roughing it with the riff-raff in Gustavia (centre of photo, not the big white job!)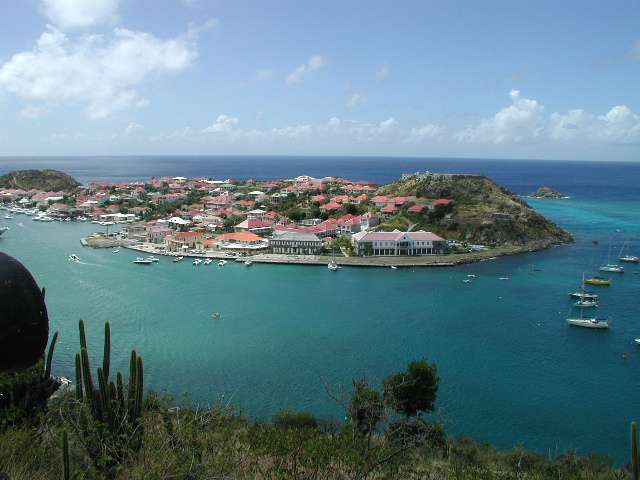 Gustavia from the fort.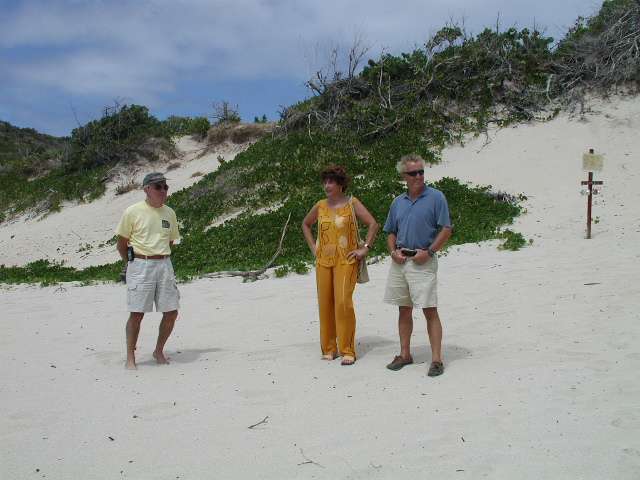 Georges, Josiane and Phil during the island tour at Anse de Grande Saline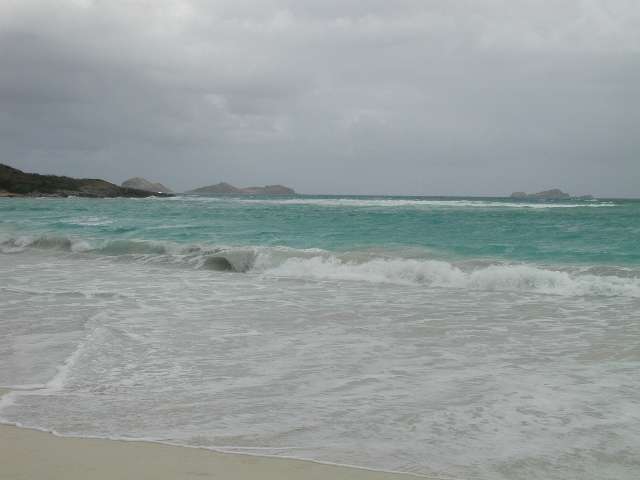 Beach at St. Jean, showing the reason we decided not to anchor off Gustavia.
A couple of days later, Georges and Josiane collected us from the harbour for our half day tour of the island. It was just amazing how much we managed to cram into four hours! Local knowledge is always a great advantage and Georges and Josiane certainly knew all the best places to visit.

We managed to see all of the popular beaches and the houses belonging to the rich and famous. We watched planes landing at the terrifying airport, where the planes literally have to drop out of the sky to land (the road near the airport is being moved as planes' landing gear frequently hits the roofs of passing vehicles!). We were also invited to visit their beautiful apartment, where humming birds feed on the balcony, for delicious home-made cake and called to visit their friend Jean, who used to work with Josiane for Air France.

On the way back to Gustavia, we stopped off at the luxurious Karl Gustav hotel, which overlooks the harbour. Chalets there, each of which has its own private pool, are currently on special offer for only about £500 per night due to the sudden decline in visitor numbers to the island. If you decide to take advantage of this offer, be sure to invite us for dinner!

We were very grateful to Georges and Josiane for their hospitality and enthusiasm.

We decided after a week that we should leave St. Barts as the chocolate croissants were beginning to take over our lives and our waistlines! We had also managed to scare our neighbours with our first attempt at the songs of the Beatles on the piano and guitar, after a year without practising! We felt we should leave before we were thrown out!

Fortunately our disentanglement from the mooring buoys in the harbour was much more straightforward than our arrival. Our exit, surrounded by the superyachts, was pretty cool if we say so ourselves!